Description
Sony XR-A80L
BRAVIA XR-A80L OLED 4K HDR Google TV (2023)
Pristine OLED picture. Premium sound.
See what makes this TV special
Exceptional OLED picture and rich sound in perfect harmony, powered by the intelligent Cognitive Processor XR™.
Combine our bright, pure black OLED TV screen with the powerful intelligence of our Cognitive Processor XR™ and you get pictures closer than ever to real life.
Contrast. Like life itself.
The secret is peak brightness and pure blacks. Suddenly you'll see all the detail, depth and texture that is often missing from some screens.
Screen speaker, always immersive
As the story unfolds before your eyes, you'll hear a sound track that precisely matches the action. Much the same as in a movie theatre.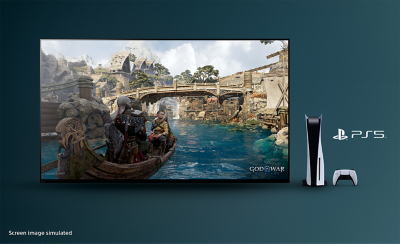 Game time. Be invincible.
Our BRAVIA XR™ TVs capture the awesome graphics and soundscapes of today's games. Want more? Pair with a PlayStation®️5 console for absolute immersion.
Great pictures and sound should never compromise the environment. We work tirelessly to help reduce our impact on the planet.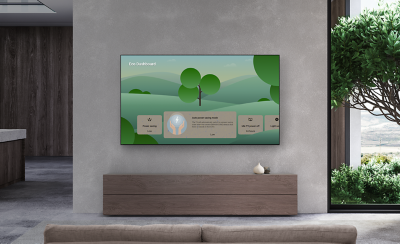 Wonderful pictures with bright, pure black OLED
See every single detail, even in dazzling light or deep shadow. This OLED TV, powered by Cognitive Processor XR™, maximizes picture quality for incredible realism.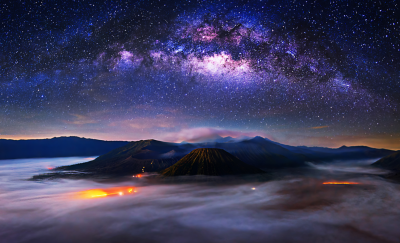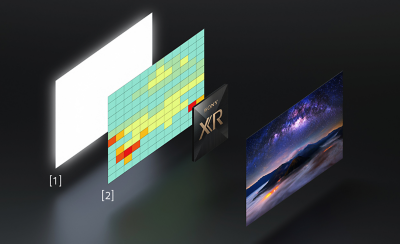 Pure blacks. Peak brightness. Remarkable contrast.
XR OLED Contrast Pro boosts color and contrast in bright areas. With a temperature sensor and high-luminance panel, Cognitive Processor XR™ detects screen temperature and precisely controls light.
Extended color volume, now see every shade and hue
Over a billion colors reproduced with the subtle differences seen in the real world. Powered by our Cognitive Processor XR™, XR Triluminos Pro™ with a wide color spectrum delivers natural shades in every detail.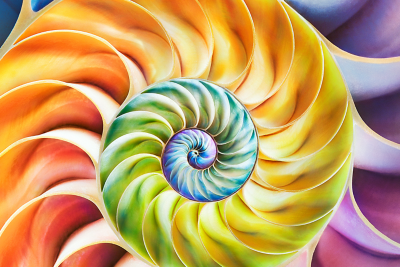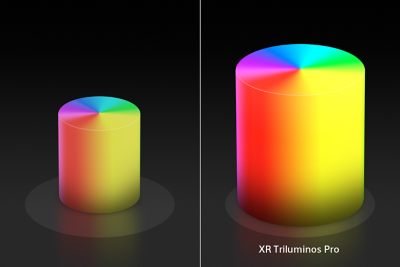 More vivid colors and realistic than conventional TV
Everything upscaled close to 4K quality
Whatever the content or source, images are upscaled close to 4K. XR 4K Upscaling accesses a vast database to intelligently recreate lost texture and detail.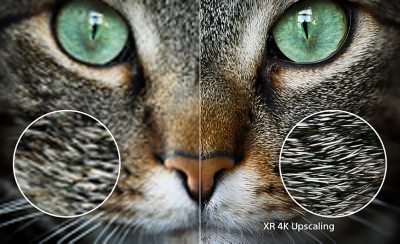 Less noise. Less blur. More clarity in every picture.
XR Clear Image reduces noise utilizing zone division and dynamic frame analysis, and minimizes blur.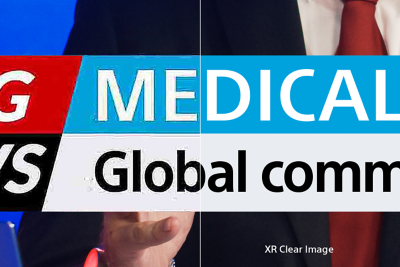 Noise is reduced, making broadcast and online videos much clearer and easier to view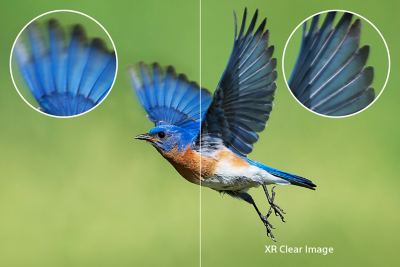 Blur is minimized so action stays smooth
Intelligent motion processing for smooth, fast-moving action
XR OLED Motion combats blur by detecting and cross-analyzing key visual elements on successive frames. It creates and inserts extra frames between the originals for smoother, clearer action.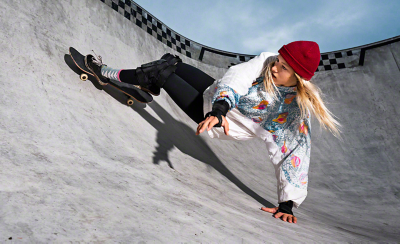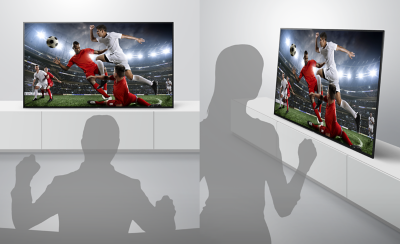 Beautiful colors from any angle
Watching TV from the sides is now as satisfying as from the center. Our OLED panel keeps colors consistent and true, wherever you're watching.
Studio-quality entertainment, just as the creator intended
Featuring an array of Creator Calibrated Modes, IMAX Enhanced and Dolby Vision®, this TV preserves the director's intent. And as it's Calman Ready, creators can even professionally calibrate it for use in production edits.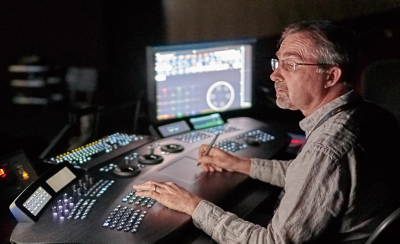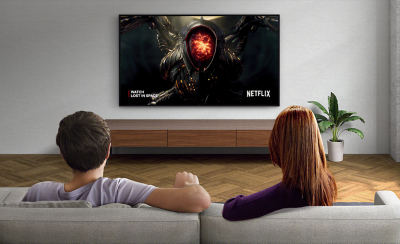 Watch Netflix in studio quality, automatically optimized
Netflix Adaptive Calibrated Mode works with BRAVIA XR's ambient light optimization, adjusting picture brightness of your favorite Netflix shows to room lighting conditions
Optimizing pictures for all your favorites
With BRAVIA CORE™ Calibrated Mode, all movies including IMAX Enhanced™ titles automatically adjust to the optimal picture settings for an outstanding home movie experience.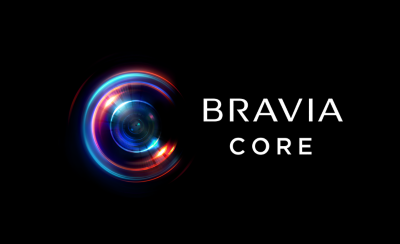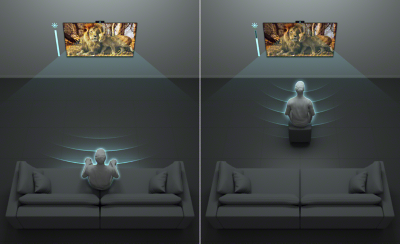 Every picture, optimized to your position in the room
BRAVIA CAM™ detects the distance between you and your TV, then adjusts brightness for picture quality that's optimized to your position in the room.
Screen sound, ingeniously immersive
The screen vibrates, turning every part of it into a speaker for powerful acoustics that move with the picture.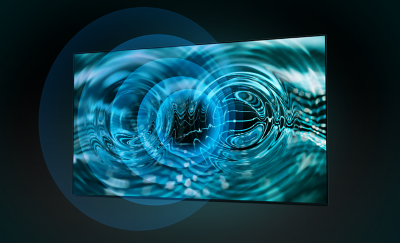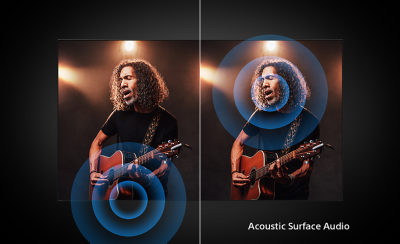 Sound from the centre of the screen, perfectly matching action
With Acoustic Surface Audio +™, sound comes directly from the right place in the scene. Far more immersive than conventional TVs where sound comes from beneath the screen.
All your entertainment upscaled to 3D surround sound
XR Surround virtually creates surround sound using just the TV speakers for 3D audio without in-ceiling or up-firing speakers. Our BRAVIA XR™ TVs are also compatible with Dolby Atmos®.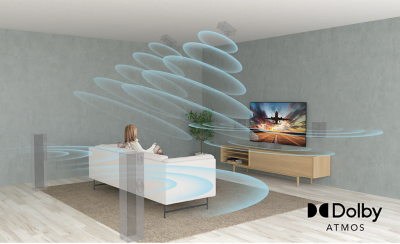 Clear Voice. Precise dialog.
Voice Zoom 2™ detects voices, analyzes them and improves their clarity. With enhanced filtering, ambient elements are suppressed so you can hear even faint TV dialog clearly.
BRAVIA and Sony Audio, the dream team
Take entertainment further by pairing your BRAVIA XR™ TV with Sony audio equipment. You'll discover an unmatched audio-visual experience with outstanding XR picture and sound quality.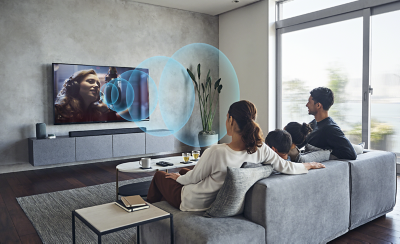 With Acoustic Center Sync, you can turn both your compatible BRAVIA™ and the soundbar into a center speaker. Precisely matching what you hear with what you see on your screen further immerses you in your home entertainment.
Ready for 360 Spatial Sound Personalizer
Tailor your Dolby Atmos® experience by combining our SRS-NS7 wearable speaker with BRAVIA XR™ for spatial surround. With some Sony headphones, you can also get the simulated surround of 360 Spatial Sound.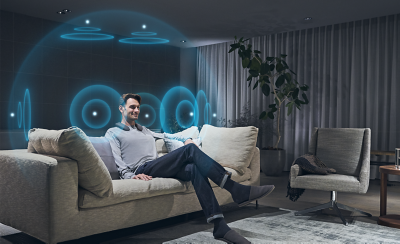 The ideal sound experience from anywhere
BRAVIA CAM™ tracks your position, adjusting left and right sound balance for optimum acoustics. Wherever you are, you'll hear the same quality sound as if you were sitting right in front of the TV.
Hear voices clearly, no matter where you are
Detecting your viewing distance, BRAVIA CAM™ adjusts voice zoom automatically for clear dialog. Volume increases when you move away from the TV and decreases when you get closer.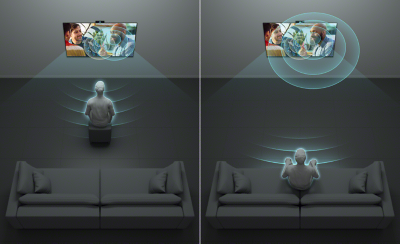 Jaw-dropping graphics. Immersive soundscapes. Game on.
Be right at the heart of the action with BRAVIA XR™. Awe-inspiring scenes, atmospheric sound and exclusive new features bring your go-to games to life like never before.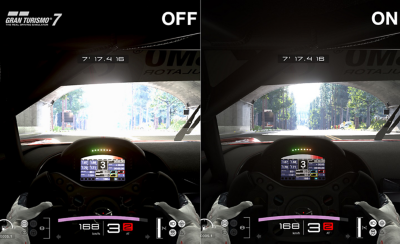 Auto HDR Tone Mapping instantly optimizes HDR settings during your PS5™ initial setup. Even in dark shadow and bright highlights, you'll see fine details and true colors.
BRAVIA XR™ automatically switches into Game Mode with PS5™ to minimize lag and maximize responsiveness. It switches back to Standard Mode when watching movies for more expressive scenes.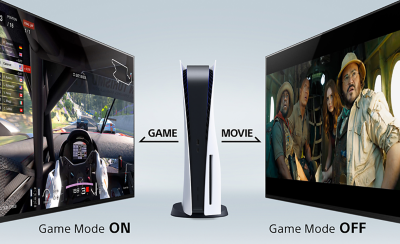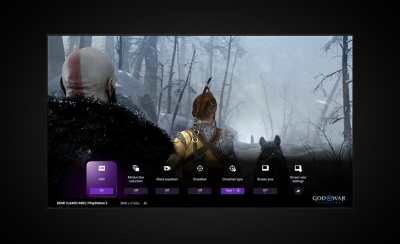 One place for all your game settings
Never has it been easier to fine-tune your game status, settings and assist functions. All the essentials are at your fingertips for ease and comfort.
Various features in HDMI 2.1
With 4K/120fps, a Variable Refresh Rate and Auto Low Latency Mode, our TVs give you smooth and clear movement for responsive gameplay.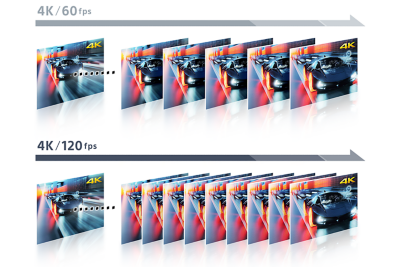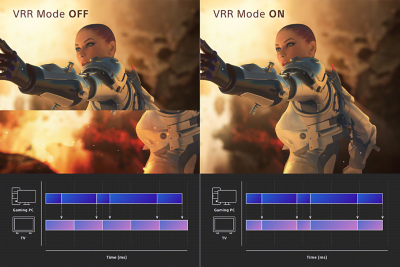 Variable Refresh Rate (VRR)
Discover our smart features
What you want to watch all in one place
Browse 700,000+ movies and TV episodes from across your streaming services, all in one place and organized into topics and genres based on what interests you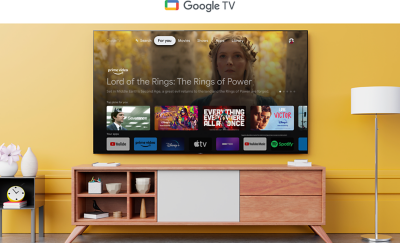 Over 10,000 apps and games, straight to your TV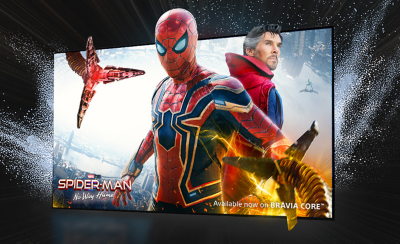 Bring the cinematic experience home, enjoy movies included with BRAVIA
Explore today's top movies, instantly. With BRAVIA CORE™, you can redeem up to 10 movies and stream for up to 24 months. Our exclusive movie content service with Pure Stream™ and IMAX® Enhanced delivers stunning visuals and expressive sound.
Find favorites faster with voice search. Jump right to a show or movie just by saying it or try browsing with a voice search like "find action movies." Press the voice button on your remote to get started.
With Kids Profile, you call the shots. This special feature helps you guide children to age-appropriate content, in a space that's all their own. Set kid-friendly filters for apps, movies and shows. Limit how long they can watch and easily set bedtimes.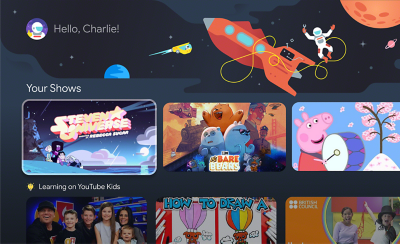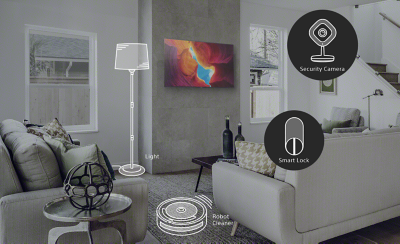 Control your smart home with help from Google
Use your voice to create the perfect viewing environment. Control smart home devices throughout your home. Adjust room temperature, lighting, see who's at the front door, and more.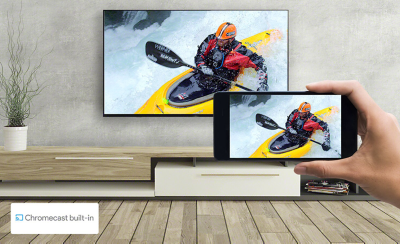 Stream from your device. Easily cast movies, shows, photos, and more from your phone right to your TV.
Compatible with Apple AirPlay
Stream effortlessly to your TV from your iPhone, iPad or Mac. Watch movies from apps or Safari. Share photos with friends in the room.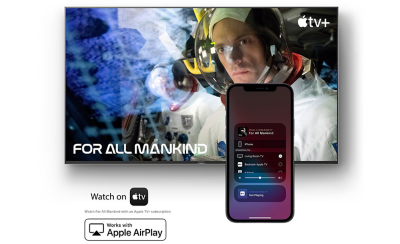 Ask Siri to control your TV with just your voice
With Apple Home, you can easily and securely control a Sony TV with the Home app and Siri on your Apple device, using HomeKit technology. Set up your TV in a few simple steps and control with a tap or by asking Siri.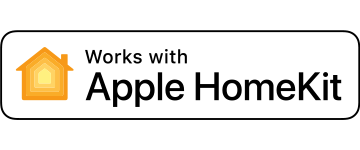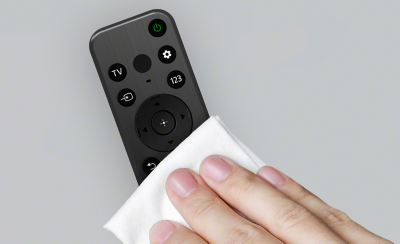 Easy to wipe, always stays clean
Say goodbye to dirt and dust. With a flush surface featuring lower buttons and a special polyurethane coating, our remote is easy to wipe and keep clean. All buttons are specially coated with antibacterial material.
Control all your devices with one smart remote
As simple as a single touch. All your connected devices can be controlled with our smart remote. One-button access to video on demand services brings shows and movies into your room in seconds.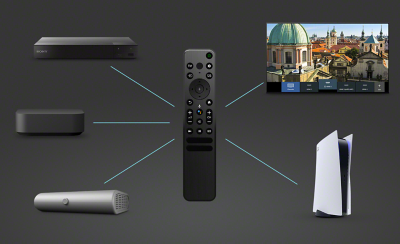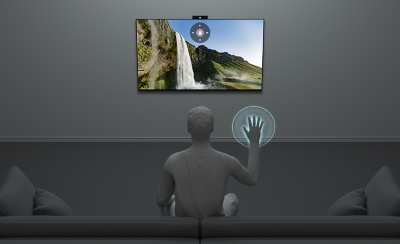 A handy way to control your TV
As easy as a flick of the fingers. Gesture Control enables you to change channels, adjust volume and more using simple gestures, no remote required.
Keep your kids a step back. Proximity Alert allows you to set a recommended viewing distance for your child and alerts them if they get too close to the TV.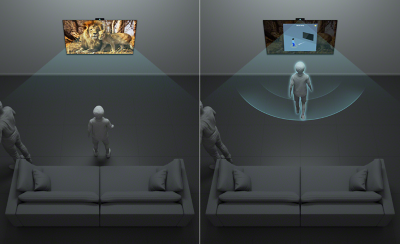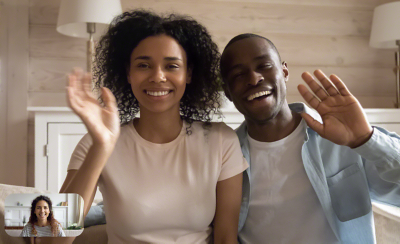 Video chat on a bigger screen
Catch up with friends and family on a bigger screen when you pair your TV with BRAVIA CAM™.
Camera covered, privacy protected
One swipe protects your privacy. Simply use the switch on top of BRAVIA CAM™ to close the camera cover. Attaching and detaching BRAVIA CAM™ is so easy.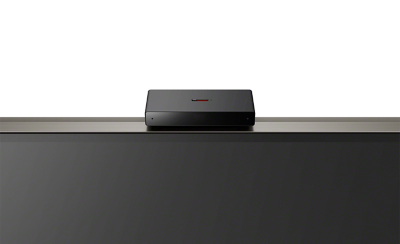 Entertainment for the environment
BRAVIA™ combines high picture and sound quality with initiatives that help reduce environmental impact, such as the use of low energy, less non-renewable resources and better transport efficiency.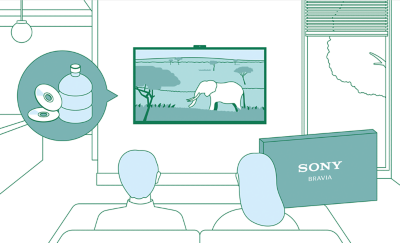 Optimizing brightness and power consumption
Ambient light sensing optimizes screen brightness to room conditions for efficient power usage. Every part of a picture is optimized based on the brightness of each image.
With BRAVIA CAM™, Auto Power Saving Mode optimizes your power consumption by darkening the screen automatically when you are not in front of the TV.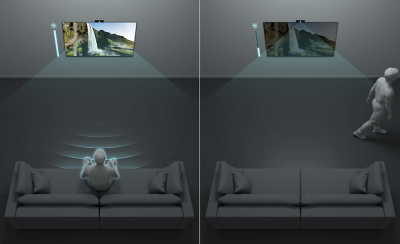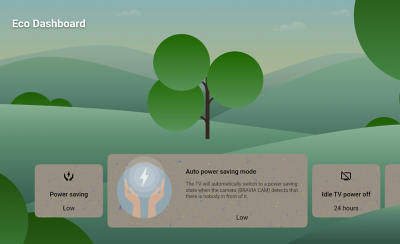 All your eco in one place
The Eco Dashboard keeps all eco-related settings in one place, making it easy to change them individually or in one go.
Beautiful design. Made durable. With less virgin plastic.
Sony-developed SORPLAS™ recycled plastics are used in our TVs to minimize virgin plastics by approximately 60%, maintain durability and achieve the beautiful high-gloss black finish synonymous with BRAVIA™. What's more, our new packaging uses around 48% less plastic volume.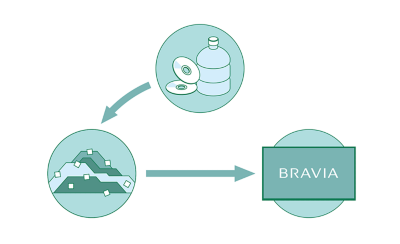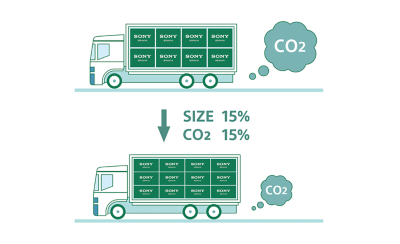 Less packaging. Less CO2.
Our new packaging is 15% smaller and 12% lighter which optimizes transport efficiency and reduces CO2 emissions by as much as 15%.
One Slate. Super minimalist. Seriously immersive.
Our minimalist One Slate design fuses screen and bezel into a single slate. The design minimizes noise and maximizes your viewing experience.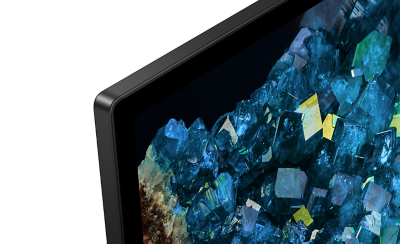 Metal Flush Surface, the art of immersion
Our premium design with extremely narrow metal bezel focuses your eyes naturally on the picture, not what's around it.
Prestige 3-way stand, stylish and versatile
A 3-way stand gives you the choice of a standard setting that focuses you on the picture, narrow setting for smaller shelves and soundbar setting for ideal positioning of your sound system.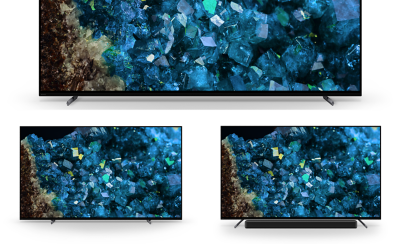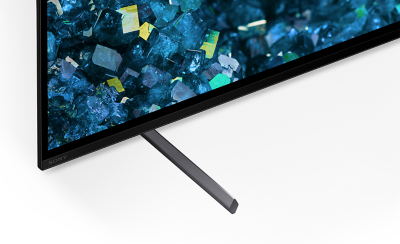 Aluminium Slim Wedged Stand
The stand is a new design with a diamond-shaped cross-section, which makes the appearance even thinner and lighter. A beautifully coordinated look.